Chestnut stallion — Foaled 1951 — ASHS 265
History records Sundown as a legendary sire with 110 registered progeny. However, he gets his name from a clandestine mating "after the sun had gone down" of the stock horse mare Jane to the leading TB sire of the time Midstream at Kio Ora Stud, Scone
Jane had the proven all cattle lines of Radium, Saladin and Silvius. In fact she had two crosses of Silvius whose blood also survives today through Dimray and Bobby Bruce. Sundown's grandsire was Blandford the same as Young Valais.
Midstream sired such horses as Cox Plate and Melbourne Cup winner Delta and Shannon who won races in the USA and was leading sire in Australia in 1948, 1951 and 1952.
Sundown himself won camdrafts and led classes but sired horses that performed at the top level. They excelled on the polo and polocrosse fields and had exceptional cattle sense. Springfield Marquis was Champion Polo Horse at Sydney RAS in 1972, Mr Jinx and Euchre were other Champion Polo horses. In polocrosse Laws Dream was Champion at the Nationals in 1970, as was Sundown Bimbo. Darryl Smith's great mare Edenhope Lilly produced Edenhope Sam, the sire of champions Edenhope Betty Jane, Micky Myndo and many more.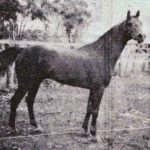 He produced the successful sire sons Sunstream, Majestic and Rivoli Sonny Boy. Fire Sun out of a Sundown mare sired many good polo horses.
Sunstream
Sire Line:
Please see his story in the attached profile. Sundown profile
Haydon Horse Stud used his daughter SUNSHOWER (refer Sunshower Family) in the stud as a broodmare. She was a lovely type of mare and produced many good foals including;
TITIAN (Goldie) by Souverleen was purchased by Ellerston and played by the English Polo Captain Howard Hipwood in the 1988 Test Match. She produced well including ; SOUFFLÊ bred at Ellerston by Longboat and was taken to England in 1997 for ten goaler Gonzalo Pieres for the high goal; HORNE in 2003 by Wickerworks was a legend, played by James Packer, 10 goalers Gonzalito Pieres and Pelon Sterling and many others  at Ellerston. He went on to play for many years for Ellerston White, being rated right up there with their best ever. Her Ajuna gelding SCRATCH played many seasons at Ellerston for Dirk Gould.
Titian (Goldie) was purchased from Ellerston by Wickford Pastoral Co, Tasmania where she bred FLIRT who was BPP at Ellerston in 2011 played by Ruki Baillieu. Rain Maker was played by English Captain James Beim in Coronation Cup Test Match in 2012.
INCA SUN by Never Doubt shown successfully in led classes and played polo by Angus Scott including at the Ellerston high goal;
SUNRISE by Never Doubt also shown successfully at the State Championship at Dubbo and dam of SUN GLOW;
SUN GUNby Musket sold as a sire to B. Webb, Qld winning at his first showing in 1991 beating a field that included Brisbane winners, his full-brothers RAINGUN and SUNBEAM who was retained by the Stud. His first foal was SUN GEM out of Tiara purchased by the Walker family. His daughter NIGHT BEAM was Champion Yearling at the 1997 Scone ASH Show and went on to be top priced yearling filly at the 1997 National Championship Yearling Sale at Grafton, purchased by Maxine Brooks who won many ribbons with her. Another daughter SUN FLOWER was shown and purchased as a yearling by Warren Brittle.
SUN DIAL by Bush Glow played good polo and was sold to R. Grant. Proving a good broodmare producing TURQUIRI a many times winner and Patton Champion Filly at the Nationals.
SUNBURST by Bush Glow purchased by Barry Svenson, who has found her to be a "great walker, a very soft and athletic young mare".
EASY SUN (135398) her last foal born in 1996 by Easy Gun was used as a stallion having 54 registered progeny.
RAINSTORM by Bush Glow 1995 retained as a broodmare and has produced; SUN DRAW by Drawn sold as a yearling and
MIST by Drawn sold at the National Yearling Sale to Wickford Pastoral Co, Tasmania proving successful at polocrosse.
SCUD by Drawn played high goal in England by Glen Gilmore and in 2010 played in the final of the Gold Cup by Sapo Caset 10 goals.
SHOWER by Victory started polo in 2005, showing very good potential as a polo mare.
RAINDROP by Nightwatch 2007 (186259) a good type and showed great potential at polo.
WICKFORD SUNSHOWER by Nightwatch 2008 (188348) registered by Wickford Pastoral Co, Tasmania who purchased Rainstorm in foal in 2008 to acquire more of this successful family.